I decided to try and sell some of my handmade goods recently and rather than go with eBay I tried Etsy, which specializes in homemade items but I had some doubts about the reach of Etsy. However, those doubts were quickly squashed.
Better late than never
A couple years ago I made a USB flash drive out of a Hot Wheels car and it was a lot of fun not only because it was a challenge to figure out and get right, it actually worked. It's my at-work USB drive and it's always a great conversation piece when I lend it to someone or whip it out during a presentation. They inevitably ask where I got it and when I reply that I made it, they always say something like, "my so-and-so would love one of those!"
So after much delay and laziness, I finally made some Hot Wheels USB drives to sell, but rather than sell the USB drive or the Hot Wheels brand, I wanted to sell the car. I didn't want them to be a Hot Wheels USB drive, I wanted them to be a 1965 Ford Mustang USB drive. My thought was that Hot Wheels collectors either a) already have one, or b) can make their own and thus I need to target the people that have no interest in making their own. I didn't know if it would work but it made sense to me, so after I picked some classic muscle cars and turned them into USB drives, I had to post them online…but where?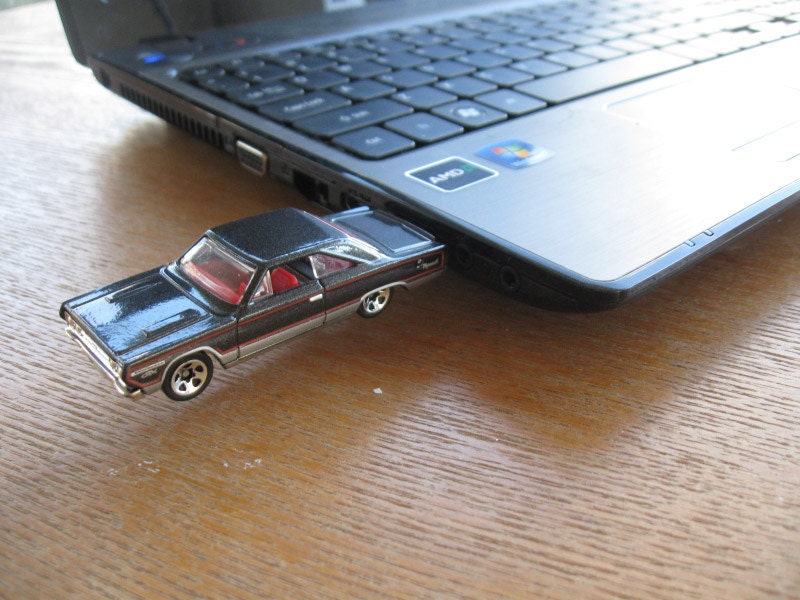 Paper beats rock, rock beats scissors, Etsy beats eBay
The obvious choice was eBay, as it is the biggest place where people sell crap…and that was the problem, eBay has nothing but crap. Sure, you can find some things every now and then but overall I think eBay has a huge problem with being a poor experience for shoppers. eBay just looks dated and there are too many options and steps for buyers. I didn't want to use eBay if I could help it and the next logical choice was Etsy, which is actually fun to use but at the same time I wanted to actually sell my items and not have my listing fees go to waste. I ultimately chose Etsy and posted three USB drives for $20…and waited.
I didn't have to wait long. To my surprise, I sold one within the first week of it being posted on Etsy. Then a week later, the other one sold. Then a couple weeks later, the last one sold. Within a month I sold all three USB drives. I was amazed, and to say my uncertainty in Etsy was instantly washed away would be an understatement. I obviously don't know why people chose my items over other similar items. Maybe it was the type of cars I chose, or maybe it was the photos…or maybe it was the free shipping. Hard to say, but I really don't care because something worked and I now I have a very good problem of needing to make more items to sell.
I should have gotten off my ass and done this a long time ago because while you might think your product is dumb or overpriced, someone will buy it.